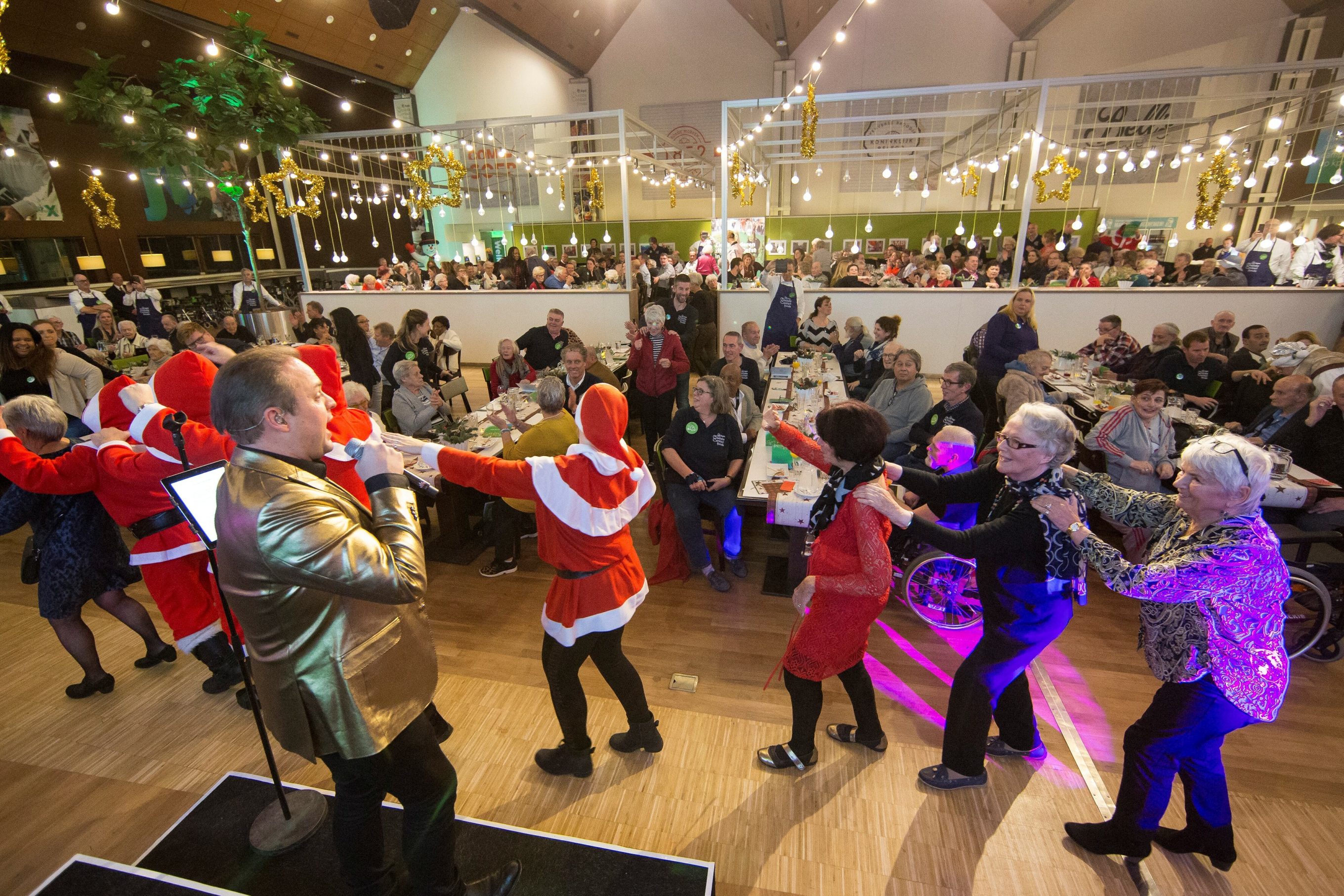 13 December 2018 - The company
Minister Hugo de Jonge among the waiting staff at KPN Mooiste Contact Fonds Christmas dinner
The anniversary year of the KPN Mooiste Contact Fonds draws to a close this month in festive style with Christmas dinners for deserving citizens such as lonely seniors and people with an intellectual or physical impairment. Specially for this occasion the staff restaurants of the KPN offices in The Hague, Groningen, Amersfoort and Rotterdam are all decked out for Christmas. KPN employees were able to volunteer to help in the restaurant, in the kitchen, in the cloakroom or as Santa. Minister of Health, Welfare and Sport Hugo de Jonge was so enthusiastic when he heard about this initiative that he came yesterday evening in person to help wait at table.
"Loneliness is one of the greatest social issues of our time," says De Jonge. "We mustn't simply accept it as a fact that large number of people in our society feel lonely. We have to get members of society talking to one another again. And if there's one organization that knows how to do it, it's KPN."

As well as the delicious Christmas dinner that De Jonge helped serve, there was a performance by pianist Iris Hond. And after a session of bingo with prizes, Frans Bauer made an appearance: "What a wonderful initiative by the KPN Mooiste Contact Fonds. This evening is all about giving our attention and time to others. The words of one of Frans Bauer's songs, 'Do you have a moment for me, set some time aside for me', are well suited to the spirit of Christmas."
Christmas lunch for the homeless in the Concertgebouw with Iris Hond
In addition to the Christmas dinners at KPN offices, the KPN Mooiste Contact Fonds is organizing a musical Christmas lunch for homeless people on Monday, December 17 in the Concertgebouw in Amsterdam. After the Christmas lunch the guests will be treated to a performance by Iris Hond.
Two thousand volunteers
Every year, more than 2,000 KPN volunteers make a practical contribution to the fund. As well as using volunteers, the KPN Mooiste Contact Fonds facilitates projects through financial and technical support.