30 July 2014 - The company
Second Quarter 2014 results
KPN shows another quarter of good strategic progress. The outlook is maintained.
Continued operational progress in The Netherlands
High postpaid net adds in Consumer Mobile (retail: +53k) and Business (+16k)
1.4 million 4G customers in consumer and business market
43k IPTV net adds leading to triple play penetration of 47>#/li###
Consumer fixed-mobile bundles increased by 50k to 285k
Business multi play seats increased by 39k to 220k
First results of Simplification program coming through, program accelerated in Business segment
Good postpaid net adds (+16k) and market outperformance in Belgium
Conditional approval for sale of E-Plus to Telefónica Deutschland
Impairment of EUR 744m leading to EUR 210m increase of deferred tax asset to EUR 1.1bn, limiting tax cash out in The Netherlands in the coming years
Dutch pension plan agreement resulted in a EUR 451m release of provision, EUR 361m net of tax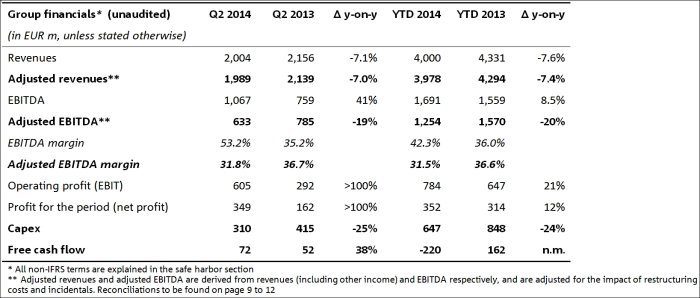 Financial performance
Adjusted revenues 7.0% lower y-on-y due to competitive mobile markets and ongoing decline of the business market sizeAdjusted EBITDA decreased by 19% y-on-y as a result of declining revenues and phasing out of handset lease. Adjusted EBITDA excluding phasing out of handset lease was down 13% y on-yNet profit decreased to EUR -12m, adjusted for the EUR 361m release of pension provision (net of tax), driven by lower EBITDA and higher tax expensesCapex for the first half of 2014 was 24% lower y-on-y driven by lower customer driven investments (incl. phasing out handset lease), lower network investments and Simplification programFree cash flow for the first half of 2014 reflects intrayear phasing, lower EBITDA excluding pension release, less cash from change in working capital, partly offset by lower Capex

Message from the CEO, Eelco Blok

"In the second quarter of 2014, we continued to make good progress with the execution of our strategy. The strong focus on high quality services through best-in-class networks and market leading products, such as 4G, IPTV and cloud services, supported the uptake of multi play propositions by consumers as well as businesses, which leads to lower churn.
We have achieved a number of quality improvements driven by our Simplification program. In the Business segment, we decided to accelerate the implementation of the Simplification program in order to offset the impact of the ongoing contraction of the overall market.
Driven by the good strategic progress, including high customer additions in mobile and IPTV, and the execution of the Simplification program, we are witnessing a quarter-on-quarter financial improvement and remain on track for stabilizing financial performance towards the end of this year.
The E-Plus sale has been conditionally approved by the European Commission and we are confident that the sale will complete in the third quarter this year. The sale of E-Plus will lead to a solid financial profile, providing a strong platform to execute our strategy in The Netherlands and Belgium. Following the sale of E-Plus, we will recommence dividend payments over 2014, which we intend to grow in 2015. We will also own an attractive 20.5% stake in Telefónica Deutschland and will benefit from substantial synergies."
Press release for download here: kpn.com/results