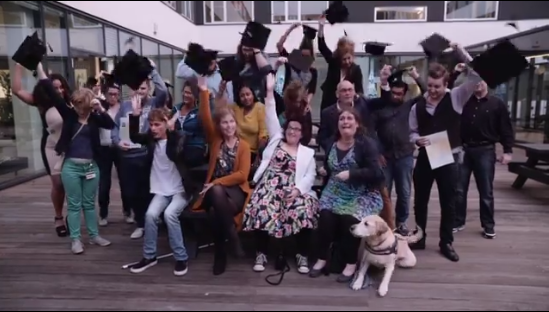 This article is only available in Dutch.
04 October 2016 - Midden in de samenleving
Eerste diploma's vanuit leerwerkbedrijf KPN
KPN is in het kader van sociaal ondernemen vorig jaar een leerwerkbedrijf gestart om mensen met afstand tot de arbeidsmarkt een opleiding en ervaring te bieden binnen het hart van KPN: de contactcenters. Met resultaat. Afgelopen vrijdag konden deze deelnemers van het eerste uur hun MBO-diploma Contact Center medewerker in ontvangst nemen.
Bij de contactcenters van KPN in Amsterdam en Breda zijn vorig jaar september twee groepen van 20 mensen een leerwerk-traject van één jaar aangegaan, met als doel werkervaring op te doen en een diploma te behalen (op MBO 2, 3 of 4 niveau). Drie kwart van deze eerste groep is geslaagd, 11 daarvan hebben al een baan, één gediplomeerde is doorgestroomd naar het HBO en de rest van de geslaagden wordt actief begeleid naar het vinden van een functie.

Met het leerwerkbedrijf wil KPN de afstand tot de arbeidsmarkt verkorten voor mensen met bijvoorbeeld een arbeidsbeperking, langdurig werklozen of herintreders. KPN komt hiermee ook tegemoet aan afspraken uit de cao, de Participatiewet en Social Return. Bij overheidsaanbestedingenbijvoorbeeld, wordt Social Return steeds als onderdeel van het contract meegenomen.

Afgelopen september is KPN met een volgende groep mensen gestart die via het leerwerkbedrijf werkervaring kunnen opdoen en een diploma kunnen behalen.