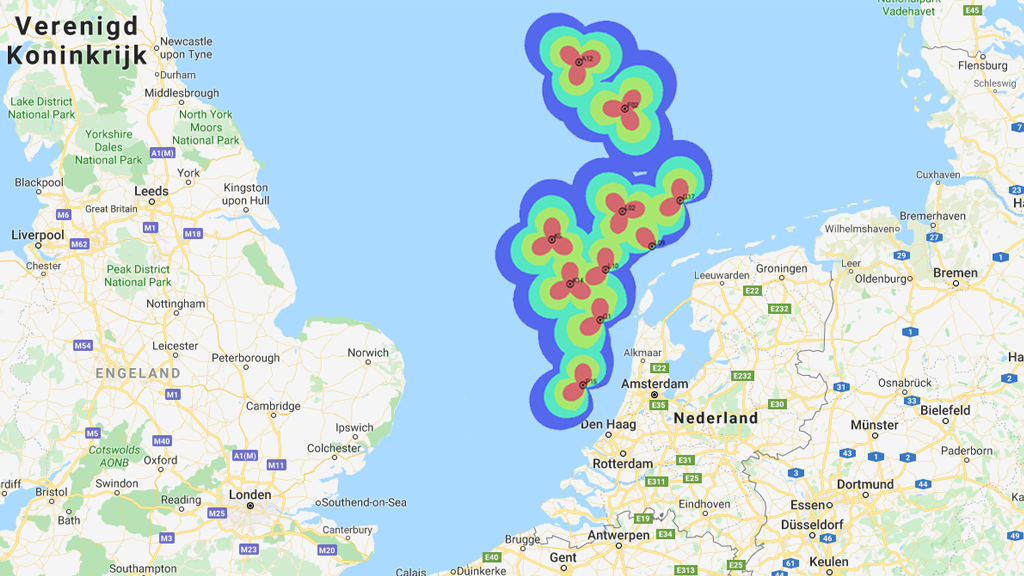 21 November 2019 - Our network
KPN and Tampnet work together on mobile coverage in the North Sea for business customers
Offshore antenna network expands coverage area by more than 5000 km2
KPN and Tampnet have entered into a partnership to expand the 4G coverage in the North Sea for business customers. Laying an offshore antenna network will expand the coverage area of the KPN network by more than 5000 km2 – an area similar in size to the province of Noord-Brabant. The announcement of the partnership was made at the Maritime Offshore & Sustainable Technology symposium (MOST) at The Hague University of Applied Sciences.
"For a long time, the North Sea was an impossible place to get mobile coverage, with poor weather conditions and too little economic activity," says Jacob Groote, executive vice-president Business Market at KPN. "The partnership with a specialist such as Tampnet and the increasing digitization make it possible to roll out 4G here on a large scale and cost-effectively."
Expanding the coverage area
In 2020, business users who work offshore up to 300 kilometers from the Dutch coast will have mobile coverage; that is an increase of 285 kilometers. These include people working on drilling platforms and wind farms, as well as fishermen and military personnel. They are currently making use of more expensive satellite and radio-relay connections, which give inferior results and for which special equipment is necessary. After the coverage area has been expanded, they will be able to use a special SIM card in their regular cellphones, which will then work in the same way as onshore.
Tampnet is erecting a total of 10 masts with 25 antennas in the Dutch section of the North Sea. Half of these are already in place. The new infrastructure forms part of a larger Tampnet network that also covers the British and Norwegian sections of the North Sea. Business customers will be able to access 4G services here as well.
5G network coverage
"We will expand this model in the future, so our customers will have coverage on the whole of the North Sea," adds Groote. He says the model is future proof. "This partnership will make it possible to develop a 5G network that provides coverage in the North Sea."
The Danish company Ørsted operates wind farms in the North Sea. "We have been able to set up a fully functioning offshore office, which enables us to carry out on-site coordination and planning efficiently," says Morten Holm, head of the Hornsea One wind farm. The speed with which the network connection was achieved simplified the communication between our onshore and offshore teams and at the same time made it possible for us to digitize our activities."
About Tampnet
Tampnet is the world's leading telecommunications supplier for the offshore industry on the basis of subsea fiber and wireless 4G LTE. Tampnet operates offshore telecom infrastructure in the North Sea and the Gulf of Mexico. More than 350 oil and gas production platforms, a large number of rigs, and shipping communicate via this high-speed data communication network. Tampnet employs more than 100 professionals and has offices in Stavanger (headquarters), Aberdeen, Scott, Houston, Amsterdam, Rio and Sydney.
About KPN
In the Netherlands KPN is the #1 supplier of telecommunications and IT services and offers consumers fixed and mobile telephony, internet and television. KPN offers business customers complete telecommunications and IT solutions.