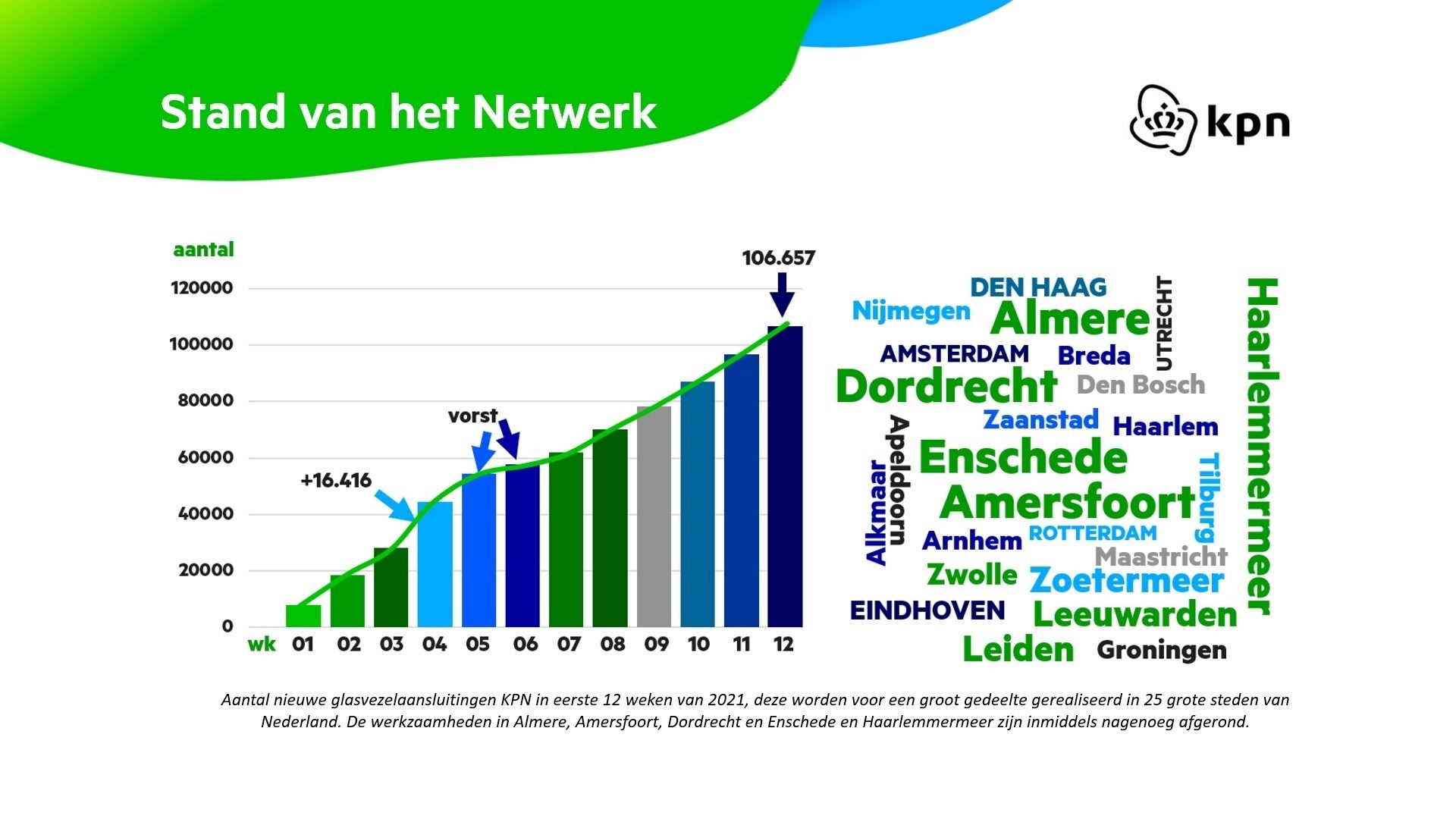 06 April 2021 - Our network
More than 100,000 fiber optic connections this year, despite frost period
Almost half of households in 25 largest cities will have KPN fiber by the end of 2021
KPN is on track again this year to connect a record number of Dutch households to fiber, despite a frosty period in February. In the first 12 weeks of 2021, KPN connected more than 100,000 households. At this rate, almost 1 in 2 households in the 25 largest cities of the Netherlands will have KPN fiber by year end.
KPN recently installed the 100,000th fiber connection of this year. About 10,000 new connections are added every week. That's four every minute. There are even weeks when KPN connects more than 16,000 homes to fiber. This means, despite a two-week frosty spell, KPN is on track to achieve 500,000 new fiber connections in 2021.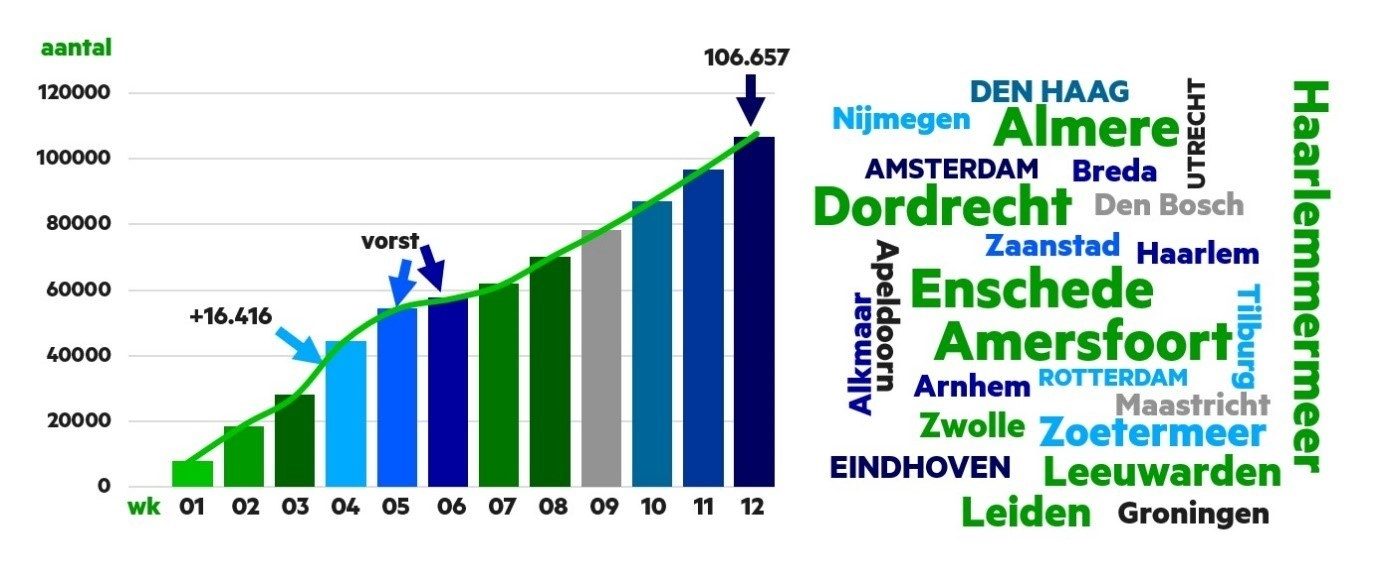 Figure 1: Number of new KPN fiber connections in the first 12 weeks of 2021; most of these were achieved in the Netherlands' 25 major cities. The work in Almere, Amersfoort, Dordrecht and Enschede has now almost been completed.
Full speed ahead in major cities
By the end of this year, almost 1 in 2 households in the 25 largest cities in the Netherlands will have KPN fiber. In the coming three years, KPN will connect more than 750,000 homes in these cities to fiber. The replacement of the copper network is almost finished in Almere, Amersfoort, Dordrecht and Enschede. Almost three quarters of Eindhoven, Haarlemmermeer, Leeuwarden and Zwolle now have fiber. Apeldoorn, Arnhem and Nijmegen will be ready by the end of 2023 and the installations of fiber in Breda, Den Bosch and The Hague will also be well advanced by then. KPN is currently in talks with the municipalities of Leiden, Utrecht and Zoetermeer about the rollout of fiber in these cities.
KPN is engaged in a large-scale operation to replace its copper network with fiber throughout the Netherlands. The counter is now heading towards 3 million connections. The pace is rapid and, currently, some 3,000 people are working every day on the construction of the fiber network in the Netherlands. With much faster, more stable, and energy-efficient fiber, almost everyone gets access to super fast internet and the Netherlands retains its digital lead. Thanks to the recently announced collaboration with ABP, a thousand villages will also be provided with fiber sooner. That means that by the end of 2026, approximately 80% of the Netherlands will have fiber from KPN or via the partnership with ABP.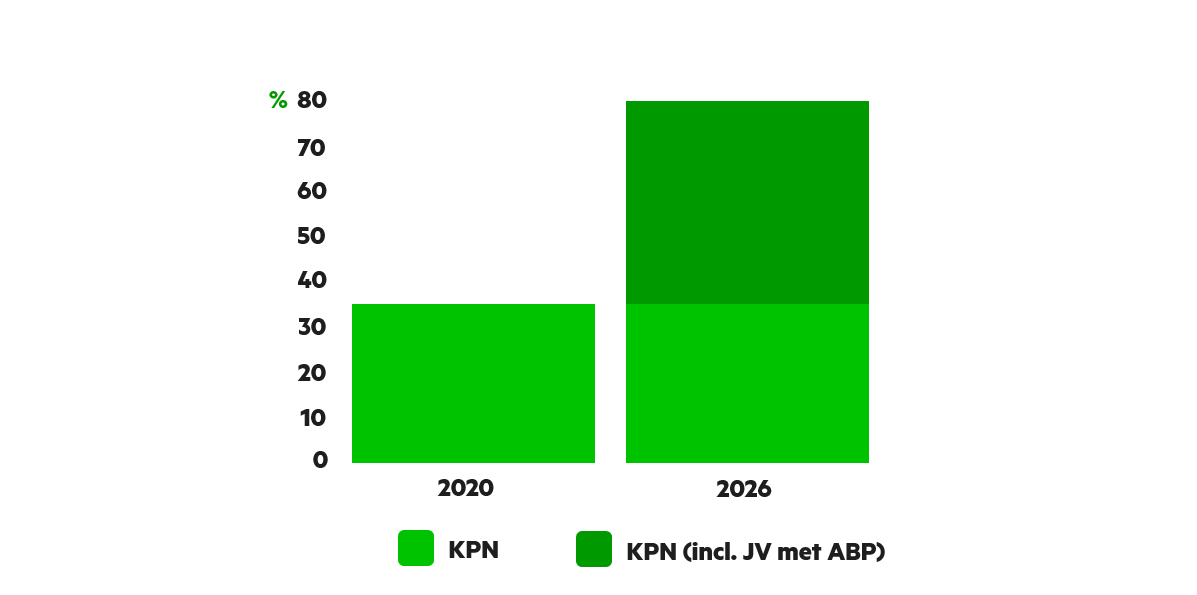 Figure 2: Percentage fiber coverage in the Netherlands, directly via KPN or via the partnership with ABP
Advantages of fiber
Fiber offers the highest possible up- and download speeds and is a more stable and reliable network that uses less energy. Together with KPN's completely renewed mobile network with 5G, this forms the most modern and powerful network, which the Netherlands can build on well into the 21st century. The exponential data growth is set to continue in the coming years, not only due to increasingly intensive internet use and the growing number of devices, but also due to gaming, virtual reality, purchases in online stores, and as a result of applications in health care and at school.
KPN Stand van het Netwerk April 2021