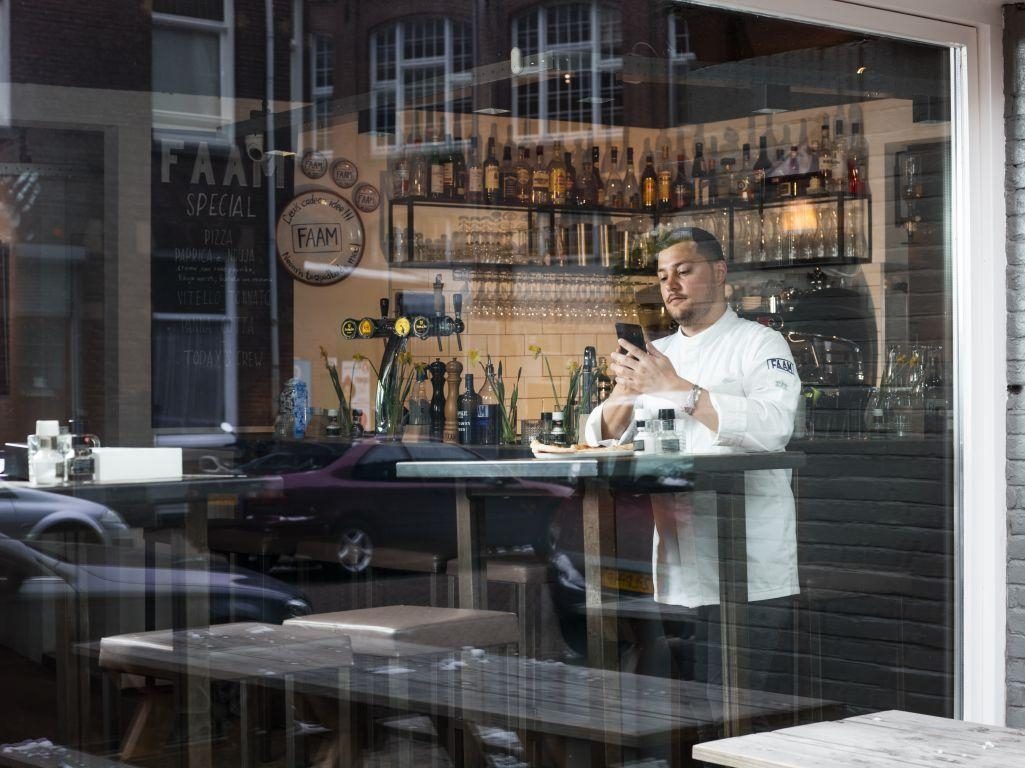 16 April 2021 - Our network
Entrepreneurs are proving agile in the corona crisis and are fully committed to digitization
KPN research: growing number of companies prioritize digital transformation
COVID-19 was the main incentive for one in three companies to start digitizing their company last year. No less than 86 percent of entrepreneurs are surprised at how agile their organization has turned out to be during the corona crisis when it comes to the successful application of digital opportunities. The main barrier to starting the digital transformation process is IT security concerns.
This is evident from the fourth Digital Transformation Monitor 2021 among more than 1,100 respondents from companies of different sizes and from various sectors. This annual online survey, commissioned by KPN, provides a snapshot of the way companies in our country view digital transformation. This time we also looked at the influence of COVID-19. There is a growing number of companies that have digitalization high on their agenda. Nearly 60 percent of companies give digitalization significant or even top priority. In 2020 the figure was 53 per cent. The digitalization process accelerated at almost half of the companies surveyed.
"Never before has the importance of digitalization been so visible, tangible, and clear as in the last year," said Marieke Snoep, Chief Business Market and member of KPN's Board of Management. "It is important to maintain the digital acceleration that is currently going on in the Netherlands. This offers many opportunities for entrepreneurs and is essential for future economic growth, making society more sustainable, and the access and affordability of education and healthcare."
Companies remarkably agile
As in previous years, the survey was conducted among two target groups: those responsible for digital transformation (617 respondents) and employees (525 respondents). Both groups were asked whether they were surprised about the agility of their company during the corona crisis. 86 per cent of those responsible said that they were positively surprised by the successful application of digital opportunities. This has increased agility. 79 percent of employees in the Netherlands agreed. On the other hand, for 81 percent of the digitizing companies, the corona crisis has rapidly made clear which digital skills and ICT infrastructure, necessary to remain successful, are not in order.
SMEs adapt business model
The influence of COVID-19 has forced, small- and medium-sized enterprises in particular to adapt their business model. More than 80 percent of SME companies engaged in digital transformation have adapted their business model due to the pandemic. One in four small businesses (up to 50 employees) has developed new products and services and tapped into new target groups and markets. These kinds of changes were much more common among SMEs compared to very large companies. It is also striking that almost one in four companies engaged in digital transformation has adapted their business model by working more sustainably. The use of digital marketplaces also increased. This mainly happened in the wholesale and retail trade and in the catering industry.
Concerns about IT security
This year, once again, the main barrier to starting the digital transformation process is concerns about IT security. In addition, other priorities and limitations due to outdated IT are reasons to postpone the step to digitalization. Even once companies have embarked on their digital transformation, concerns about IT security remain a huge challenge, especially in the SME segment.
You can find a summary of the research in the appendix.
On 22 April, The Digital Dutch event will take place for the sixth time. Just like last year, it will be completely online. During the event, Marieke Snoep and Jim Stolze take entrepreneurs in the Netherlands behind the scenes of 'the network of the Netherlands' and, together with customers, partners, and experts reflect on the opportunities that digitalization offers the country.
Fifteen webinars will be broadcast on 18, 19, and 20 May to provide business customers with an in-depth look at the opportunities of digitalization, network innovations, the workspace, and cyber security.
Partial results of the survey by Blauw Research, commissioned by KPN, will be discussed further during these webinars. You can find more information about the webinars here on 22 April.
Samenvatting Monitor Digitale Transformatie