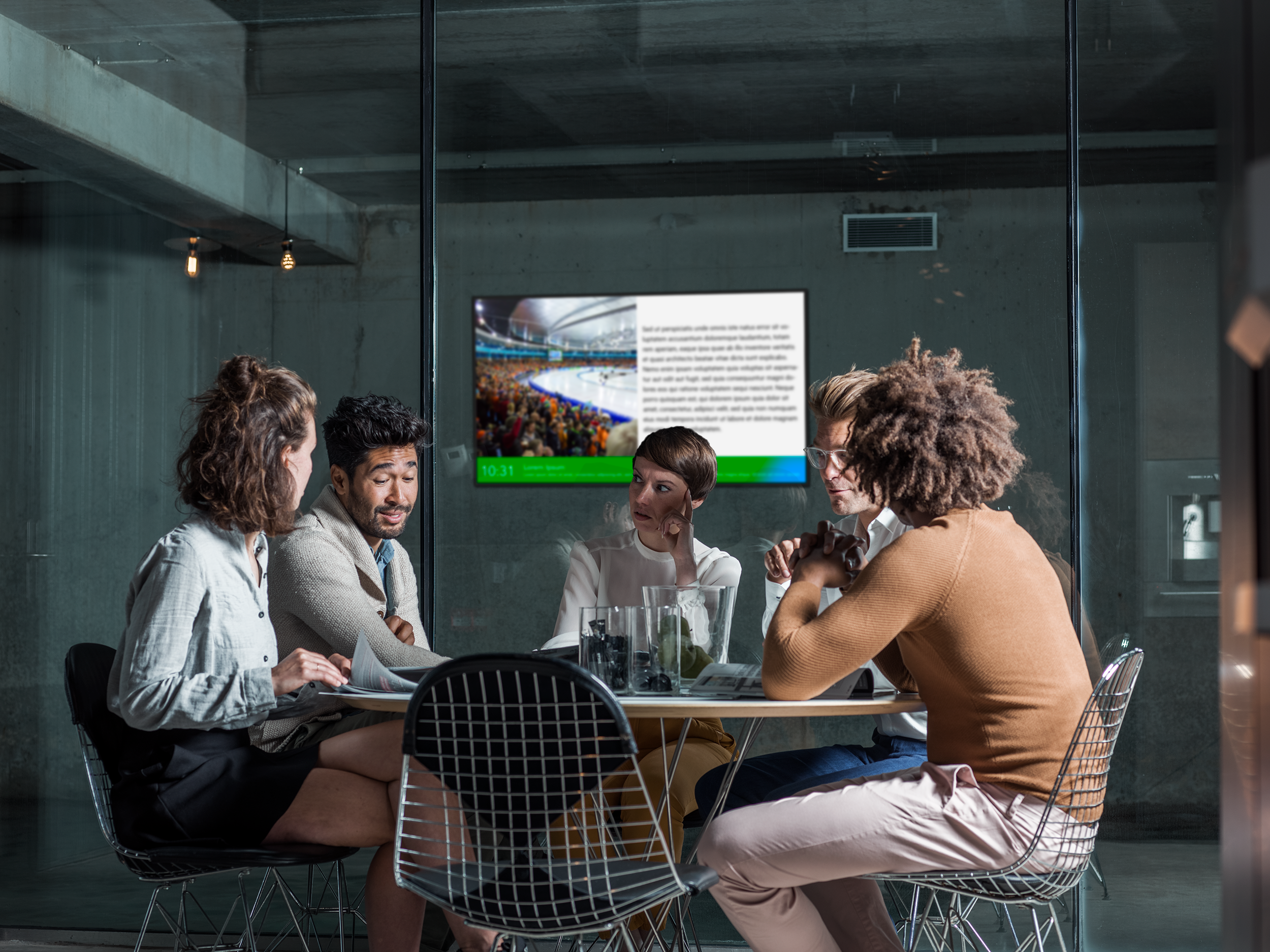 09 June 2020 - Our network
KPN Een MKB TV informs and entertains customers and employees
Rotterdam, June 9, 2020 – Ever more SMEs want to inform and entertain their employees and visitors by means of television screens showing TV programs featuring their own content. For this reason, KPN is introducing Business TV for KPN ONE SME, enabling SME companies to broadcast information and programs in their reception, canteen or restaurant facilities.
Market research commissioned by KPN shows that 48 percent of SME companies do not have television, but are interested in it. For example, they want to use the screens to display daily information to employees and visitors, via their own channel. Customers waiting in reception, for example, can be entertained by television programs or be informed with information pages.
Opportunities for entrepreneurs
"Business TV offers endless possibilities for companies to help their customers relax while waiting, or to actively inform them about their own business", said Jilles Limburg, Director of Marketing at KPN Business Market. "In addition, the possibility to enter into partnerships or even promote your own products offers endless commercial opportunities."
Business TV gives companies the ability to watch TV interactively, so they can pause, record and rewind programs. Missed programs can also be watched. With a wide range of more than 30 HD TV channels, each company can choose an appropriate program: cartoons to keep children entertained in the doctor's waiting room, video clips on screens at the gym and nature films in the waiting room at the vets.
Creating partnerships
It is also possible to show your own videos or information pages or to run a text bar at the bottom of the screen. In this way, visitors are informed about the opening times during the summer holidays or employees are informed about the latest corona measures. Business TV offers many opportunities to enter into partnerships with local entrepreneurs. For example, a hotel can show offers for restaurants in the neighborhood, or a physiotherapist can show offers for a discount on sneakers at the sport shop further down the street. The information pages can be created easily in, for example, PowerPoint.
Business TV is part of KPN SME ONE, in combination with the internet. Each screen requires a subscription (from 13.50 euros per month, excluding any discounts) and an HD TV receiver. The receiver, worth 70 euros, is currently being supplied free of charge, together with a remote control. Each screen requires 8 Mbit/s bandwidth for HD quality. Business TV have more than 30 HD TV channels, regional channels, and more than 20 radio stations as standard. The offer can be expanded with the additional channel packages Fox Sports and Ziggo Sport.
About KPN
As network of the Netherlands, KPN has been helping Dutch entrepreneurs to stay connected for more than 135 years. With a future-proof network and ICT and security solutions, KPN guarantees the continuity of entrepreneurship in the Netherlands. KPN ensures that organizations of all shapes and sizes can be connected to their customers and employees 24/7 and 365 days a year. So that they can focus on doing business successfully.