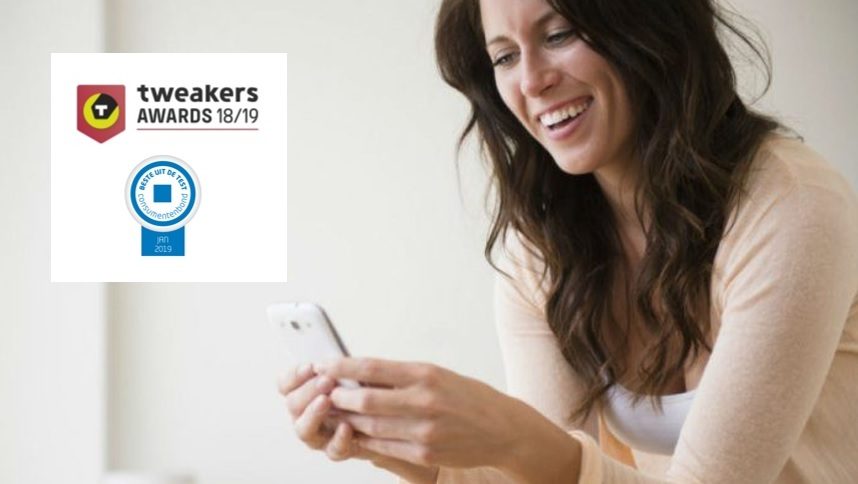 08 February 2019 - The company
Recognition for KPN from Tweakers.net and the Consumers' Association
KPN has made a good start to the year by getting recognition for the service and quality of its fixed and mobile network. It was announced yesterday that for the fourth time in a row the visitors to Tweakers.net have voted KPN winner Mobile Provider. And at the end of January the Consumers' Association declared KPN to be the Best all-in-1 provider, as in the previous quarter.
Tweakers Awards: KPN winner Mobile Provider 2018/2019
At the Tweakers Awards 2018/2019, KPN was once again acclaimed as winner Mobile Provider. A total of more than half a million votes were cast in 32 categories and as many as 26.4% of the members voted for KPN as winner mobile provider. It is the fourth successive year that this award has gone to KPN. Tweakers readers are regarded as an "expert jury" in the field of technology and electronics products. Take a look at the results of the Tweakers Awards 2018-2019.
Consumers' Association: KPN once again 'Best in Test' for all-in-1
For the second quarter in a row customers on the panel of the Consumers' Association judged KPN to be the best all-in-1 provider with an average score of 8.1 for fiber network service. For all the elements of the test (internet, telephony and television) KPN got a score of 7.5 or higher for satisfaction and customer service, thereby emerging as the top provider. So Consumers' Association named KPN Best in Test. In the category 'Best mobile provider' of the Consumers' Association, KPN subsidiary Simyo heads the list, with KPN in second place.