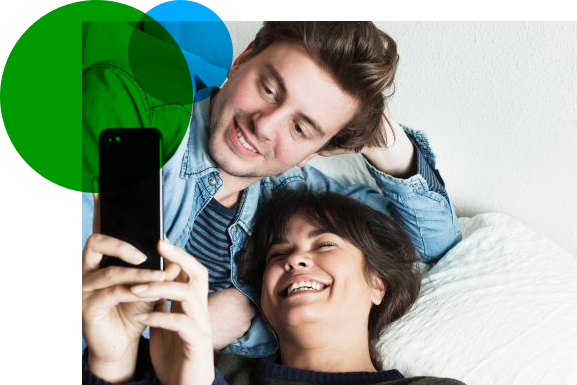 This article is only available in Dutch.
04 February 2019 - Ons netwerk
KPN biedt klant grotere bundels en meer keus
KPN past zijn mobiele abonnementen aan. Klanten die kiezen voor een nieuwe bundel krijgen meer data en meer keuze in bundels. Bij elk abonnement kunnen klanten voortaan kiezen of ze 150 belminuten en sms'jes willen of onbeperkt bellen en sms'en.
Bovendien kunnen zij maandelijks wisselen tussen die twee mogelijkheden. Bellen vanuit Nederland naar landen binnen de EU hoort voortaan standaard bij alle abonnementen. De wijzigingen van het mobiele aanbod gelden ook voor kleinzakelijke klanten.
Klanten van KPN verbruiken jaarlijks steeds meer data via hun mobiele telefoon. Reden om de meeste databundels te verdubbelen. Het nieuwe mobiele aanbod is vanaf vandaag beschikbaar.
KPN Compleet
De twaalf nieuwe bundels variëren van 0 GB tot 100 GB en klanten die meerdere diensten van KPN combineren (KPN Compleet), verdubbelen hun databundel, belminuten en sms'jes. Dat betekent dat klanten die bijvoorbeeld een abonnement van 15 GB en 150 minuten/sms'jes nemen, 30 GB en 300 minuten/sms'jes krijgen, bovendien met maandelijks € 5,- korting op het abonnement. Met MB's delen kunnen KPN Compleet-klanten tevens hun databundel delen met alle KPN-abonnementen op hetzelfde adres. Alle KPN Compleet voordelen, zoals MB's delen, gratis onderling bellen met KPN-nummers en dubbel zoveel data, minuten én sms'jes, gelden in de hele EU.
Klik hier voor een overzicht van alle mobiele abonnementen voor consumenten en hier voor alle kleinzakelijke mobiele abonnementen.