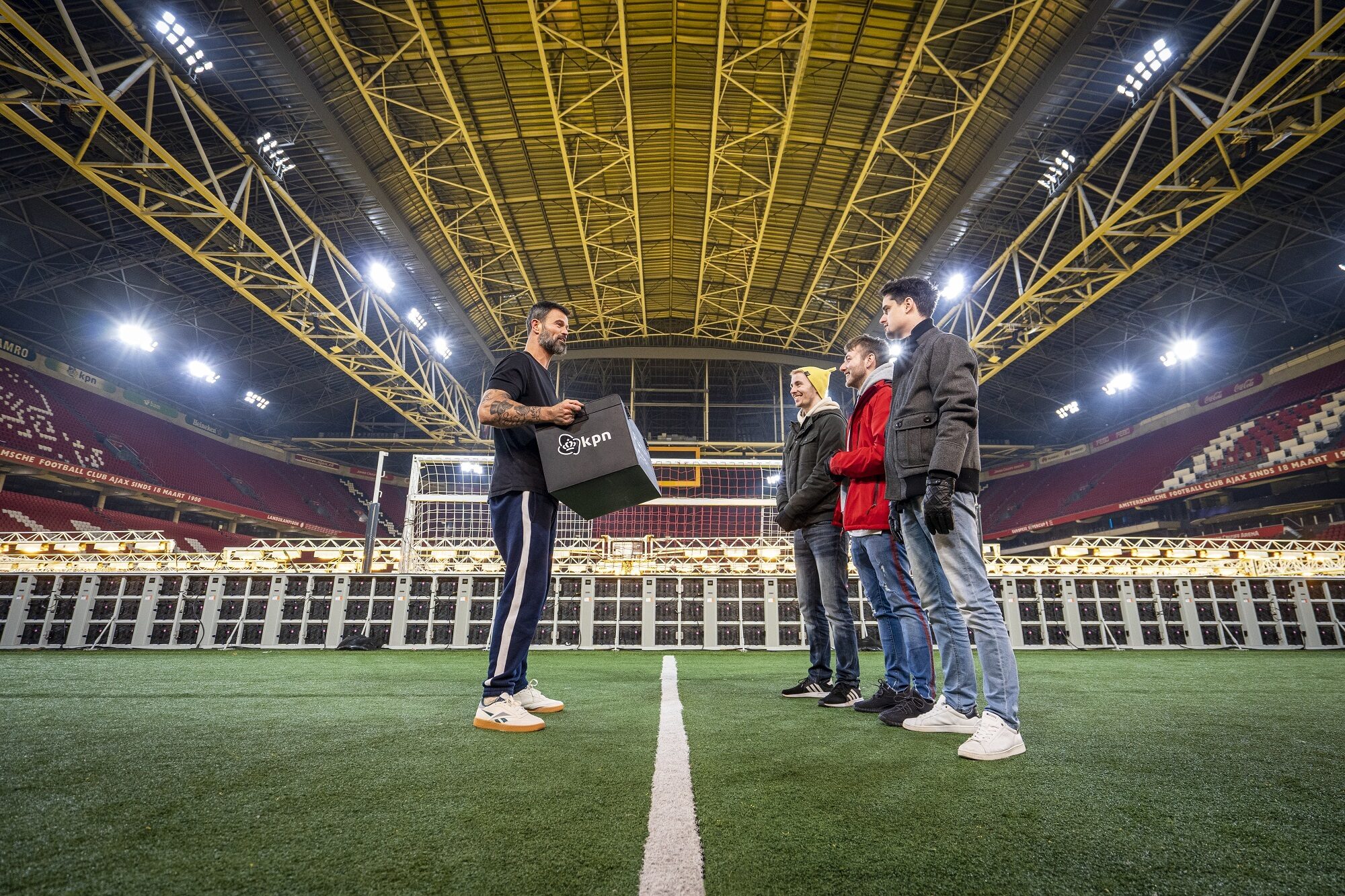 19 December 2019 - Our network
Gamers test sporty VR game on KPN's 5G network
Arie Boomsma challenges Gamemeneer, xLinkTijger, Milan Knol and others to play "Exodus Burned"
KPN will test in the Johan Cruijff ArenA in Amsterdam whether the new 5G network is actually faster and more powerful than what we get from 4G. Presenter and fanatical sportsman Arie Boomsma is challenging three teams of well-known gamers to compete against each other there in the active VR game "Exodus Burned". The three teams consist of Jeremy, xLinkTijger, GameMeneer, Milan Knol, Roediementair and Puxque.
The mobile 5G network makes downloading, sending data and gaming much faster. Heavy games like "Exodus Burned" can easily be played in high quality by several people thanks to the high bandwidth. During the test in the Johan Cruijff ArenA, the VR game will be streamed from the cloud to the VR headset via a 5G smartphone. Not only is the high speed of the 5G network important, the short reaction time (ping or latency) makes a big difference too: thanks to almost real-time communication those playing the game do not suffer from VR motion sickness.
"Thanks to 5G, gaming will soon be possible wherever you are, so the future of gaming looks somewhat sportier," says Arie Boomsma. "Naturally that sounds like music to my ears. It's a tremendous experience to game actively in the ArenA without any glitches, and when – in a little while – 5G is available throughout the Netherlands it will be possible everywhere. So a local football field can easily be turned into a virtual game arena."
Tech expert Jan Meijroos is also full of praise for the experience of VR gaming on 5G: "It's a whole new dimension, 5G will be a real revolution for gamers. Soon it will be possible to game absolutely everywhere."
The test with "Exodus Burned" is one of the 5G applications that KPN is carrying out to test the new mobile network. Jacob Groote, responsible for 5G at KPN: "We are focusing on the added value of 5G for the consumer and thanks to the specific characteristics of 5G we see great potential for gaming," adds Jacob Groote, director Mobile Networks at KPN. "It's fantastic that we can already show in practice what possibilities there will be in the future." KPN's 5G network is already available in the Johan Cruijff ArenA, where since the end of 2018 KPN, along with the municipality of Amsterdam, the Johan Cruijff ArenA and partners in 5G, FieldLab Amsterdam Zuidoost has been testing how 5G technology can contribute to making cities safer, more sustainable and more enjoyable.
About KPN 5G
KPN has been ensuring that the Netherlands is connected for around 140 years. At this moment KPN has a good 4G network, but to cope with the growth in data usage and devices, KPN is making its network ready for the next step. "Although 5G will be available in the Netherlands from 2020, the main frequency band for 5 – the 3.5GHz band which will provide higher speeds – will be available only from 2022. The transition from 4G to 5G will certainly be a stepwise evolution for the ordinary user, but for gamers 5G will be really revolutionary. www.kpn.com/netwerk/5g