This article is only available in Dutch.
01 April 2016
Veilig online met Mybee, nu ook voor de allerjongsten
De tool van KPN waarmee kinderen veilig het internet op kunnen, is vernieuwd. Met de gratis Mybee-app kunnen 2 tot 6-jarigen hun eerste stappen online zetten.
Vanaf vandaag is de nieuwe Mybee-app gratis verkrijgbaar en beschikbaar voor iedereen in Nederland, ongeacht de provider. Alle kinderen van 2 tot en met 6 jaar oud kunnen zo op een veilige manier toegang krijgen tot de leukste spelletjes, filmpjes, websites en apps.

In 2009 lanceerde KPN een desktop versie van Mybee. Om ouders en leraren te helpen kinderen op een veilige manier internet te laten ontdekken. Nu, zeven jaar later, gaan kinderen steeds jonger online. En wordt de laptop steeds vaker vervangen door de tablet. Daarom is Mybee nu geschikt gemaakt voor de allerjongsten, met een app speciaal voor de tablet.

Kinderen helpen ontdekken in plaats van verbieden
Mybee helpt jonge kinderen hun eerste stappen te zetten op internet. Niet door te zeggen wat ze niét mogen, maar door te laten zien wat léuk is. Al spelend en lerend ontdekken ze de online wereld. Binnen veilige grenzen.

Mybee is samen met kinderen en ouders gemaakt, vernieuwd en getest. Een professionele redactie, met een achtergrond in het onderwijs, zorgt continu voor vernieuwingen.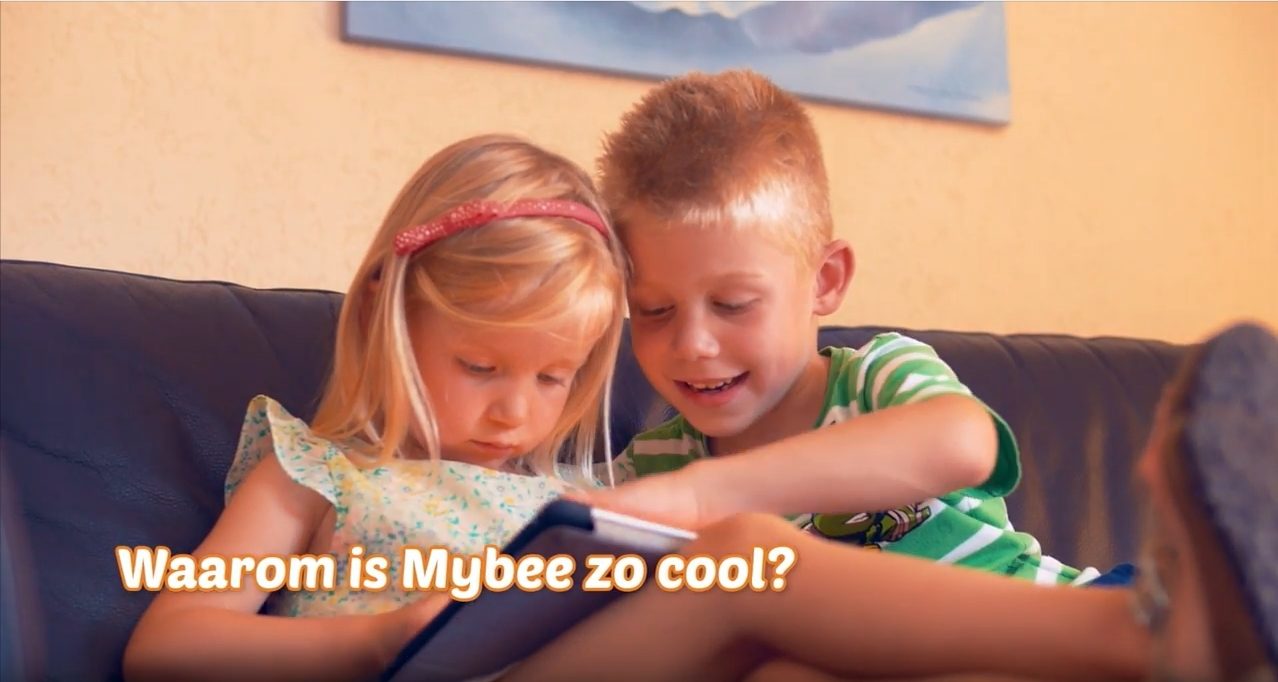 Ouders aan de knoppen
Opvoeders houden met Mybee zelf de regie over wat kinderen te zien krijgen dankzij eenvoudige veiligheidsinstellingen. Voor iedere leeftijd is er een passend aanbod beschikbaar. En ouders of verzorgers kunnen dat aanbod makkelijk uitbreiden of beperken. Zo kan elk kind altijd en overal op een leuke en veilige manier online.
Gratis Mybee-app
De Mybee-app is vanaf vandaag gratis voor iedereen te downloaden en geschikt voor tablets met zowel iOS als Android.
KPN vindt het belangrijk dat kinderen op een leuke en veilige manier internet kunnen ontdekken. Zij groeien op met internet en alle kansen en mogelijkheden die het biedt. KPN neemt als ICT- en telecombedrijf daarom zijn verantwoordelijkheid om met alle nieuwe communicatietechnologieën die voorhanden zijn, het leven van ouders en opvoeders leuker, makkelijker en vrijer te maken.