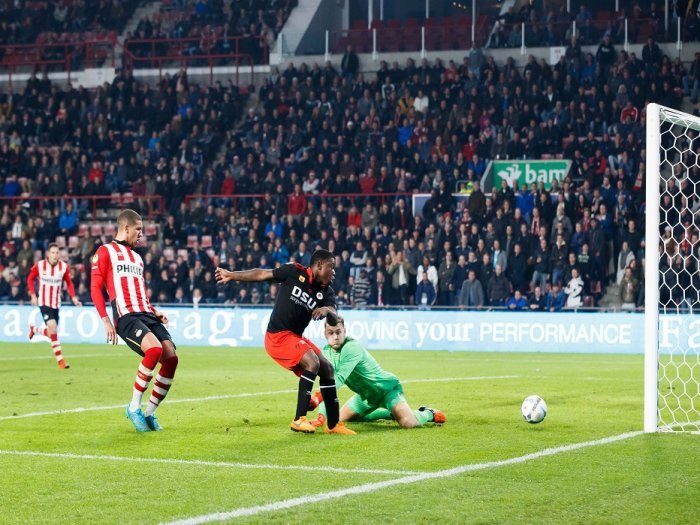 This article is only available in Dutch.
19 October 2015 - Het bedrijf
KPN Goal Alert uitgebreid: nu ook nabeschouwing met alle hoogtepunten
Na de succesvolle introductie van KPN Goal Alert vorig jaar, genieten voetballiefhebbers ook dit seizoen weer van exclusieve voetbalbeelden uit de Eredivisie met KPN Goal Alert. Alle doelpunten van twee favoriete Eredivisieclubs zijn eenvoudig en direct terug te kijken op smartphone of tablet. De dienst is nu uitgebreid met een voor- en nabeschouwing. Klik hier om een voorbeschouwing te bekijken.
De update van de KPN Goal Alert app is vanaf vandaag beschikbaar. Na afloop van iedere speelronde, op maandag, zijn alle hoogtepunten van alle wedstrijden in een nabeschouwing terug te zien. Daarnaast ontvangen gebruikers van de app op donderdag al een voorproefje van de wedstrijden die op het programma staan. "Eredivisie en KPN gaan uit van een seizoen vol sportieve hoogtepunten", zegt Frank van der Post, Chief Commercial Officer bij KPN. "Ook tijdens dit voetbalseizoen gaat KPN Goal Alert zorgen voor net dat extra stukje beleving onder de voetbalfans. We kijken er naar uit om op deze wijze verdere invulling te geven aan ons samenwerkingsverband met Eredivisie", aldus Van der Post.
Alex Tielbeke, directeur van de Eredivisie: "Naast het live beleven van een wedstrijd in een stadion of via Fox Sports op je TV of PC is deze exclusieve app onmisbaar voor de voetbalfan. KPN laat hiermee zien dat ze de voetbalfan centraal stellen in het partnership. Dat is erg goed nieuws voor alle supporters en liefhebbers van de Eredivisie."
Alle klanten met een KPN mobiel abonnement kunnen de goals van hun favoriete Eredivisieclubs op hun mobiel bekijken. Via de gratis Goal Alert app bekijkt de klant het doelpunt op smartphone of tablet kort nadat er is gescoord. Klanten kunnen per speelronde twee clubs uit de Eredivisie kiezen. Zodra in de wedstrijd van deze clubs wordt gescoord, krijgt de klant een alert op smartphone of tablet. Goal Alert is het eerste initiatief dat is voort gekomen uit de samenwerking tussen KPN en de Eredivisie.
Klik hier voor meer informatie over Goal Alert.