28 October 2014 - The company
Third Quarter 2014 results
KPN shows another quarter of good strategic progress. The outlook is maintained.
Continued progress in The Netherlands

Strong growth Consumer fixed-mobile bundles (+84k) and Business multi play seats (+37k)
Return to growth in broadband (+6k), good IPTV net adds (+49k)
High postpaid net adds in Consumer Mobile (+84k), >1.7m 4G customers in The Netherlands
Simplification program well on track, YTD '14 savings ~EUR 100m y-on-y
Strong improvement customer satisfaction, NPS well above market averages
BASE Company showed good postpaid net adds (+18k)
Sale of E-Plus successfully completed
Dividend payments recommenced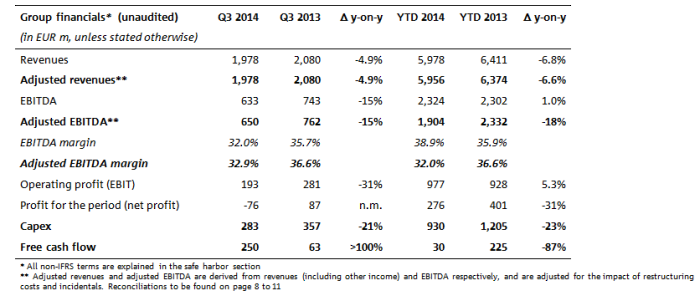 Financial performance
Adjusted revenues -4.9% y-on-y versus -7.0% y-on-y in Q2 '14. Customer base growth was still offset by lower mobile price levels compared to last year and ongoing decline of the business market size
Adjusted EBITDA decreased by 15% due to declining revenues and phasing out handset lease. Adjusted EBITDA excluding phasing out handset lease was down 12% y-on-y versus -13% y-on-y in Q2 '14
Net profit (EUR -76m) was impacted by revaluation Reggefiber option (EUR -114m); excluding this impact net profit was EUR 38m
Capex YTD '14 23% lower y-on-y driven by lower customer driven investments (incl. phasing out handset lease), lower network investments and Simplification
Free cash flow YTD '14 reflects intrayear phasing, substantial free cash flow improvement realized in Q3 '14
Message from the CEO, Eelco Blok
"In the third quarter of 2014, we continued to make good strategic progress. In the consumer market we realized customer base growth for all our main services. The business market remained challenging, although we made good progress in growing multi play and 4G. We have significantly improved customer satisfaction to well above market averages in The Netherlands supported by our simplified product portfolio and client processes.
Due to the improved product portfolio and Simplification, our financial performance is gradually improving and we remain on track for growing free cash flow next year, supported by lower interest payments.
The sale of E-Plus has been completed and has given us a solid financial profile, which provides a strong platform to execute our strategy in The Netherlands and Belgium. We have recommenced dividend payments in respect of 2014, which we intend to grow in respect of 2015. The EUR 5bn cash proceeds increase our financial flexibility. The bond tender of up to EUR 2bn announced this morning is an important step to align our financial profile with the new company profile. We now also own an attractive 20.5% stake in Telefónica Deutschland and expect to benefit from substantial synergies and dividend payments."
Press release for download here: kpn.com/results