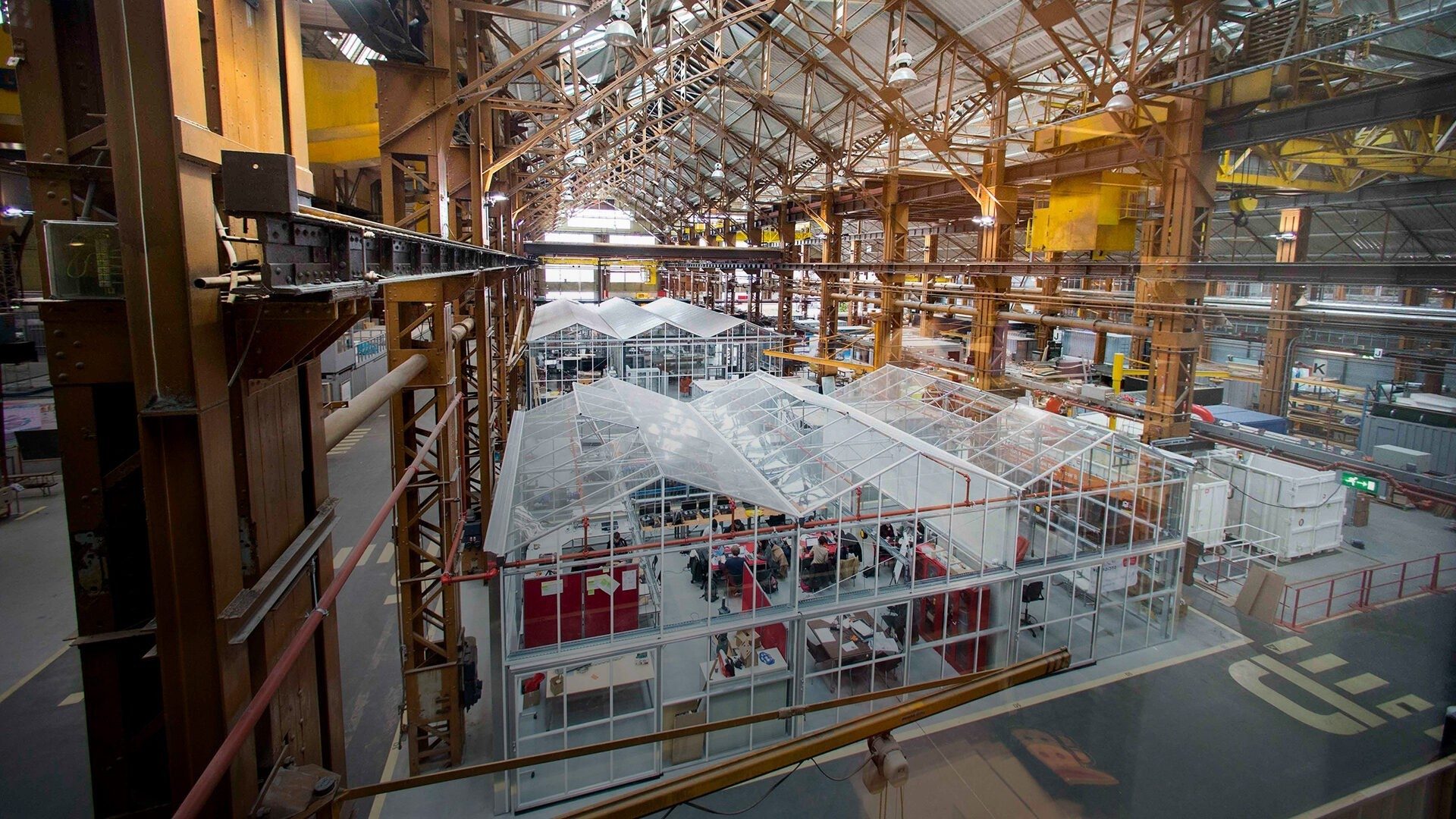 KPN Innovation Playground
Experience the future,
innovate today
To survive in this age of digitization, organizations are forced to respond adequately and timely to the rapidly changing environment. This is often done, for example, by innovating products and services. KPN Innovation Playground is the technology hub where this is possible, with the aim of connecting new technologies with the customer's products and services.
In an inspiring and cutting-edge environment, makers and developers can develop and test new services on the KPN network with security solutions that KPN offers. Partners, colleagues, customers and companies visit our Playground in order to innovate faster and better with the help of workshops, guidance and advice.
KPN Innovation Playground:
Introduces small and large organizations to KPN's latest services and technologies, some of which have not even appeared on the market yet;
Makes these technologies accessible to developers by bringing them together in one open facility;
Creates and mixes new ideas and business opportunities by bringing together knowledge and skills in an informal way.
Free access to the test location

The Playground is freely accessible to companies and developers seeking to improve their existing products or wanting to test their new products or services. We also help you to innovate faster and better with the help of workshops, guidance and advice.

Why an Innovation Playground?


The speed at which technologies converge creates opportunities for new applications. To grasp those opportunities, you need a place where you have access to these technologies and where you meet inspiring people at the coffee machine. That is KPN Innovation Playground. An open innovation lab where you get hands-on access to KPN's latest technologies and its (hardware) suppliers in order to develop your own products and services. IoT, AI, AR, APIs, Cyber Security, and 5G to name a few.


Workshops and testing possibilities


Take a look at our workshops and participate. Or come and test for new network innovations. Get inspired: experiment and innovate today.


Facilities

We offer three spaces, each with its own opportunities, which can be used for testing and meetings.

Do you need more time to test, improve, or debug your solutions? Then there is the possibility to stay at the Innovation Playground in the form of a Playground Campout.

Interested? Send an e-mail explaining the aim of your visit and we will be happy to help you. Or call 31 6 22 81 48 15.

The Lab

Space suitable for testing hardware and for use during office hours.

100 m2, WiFi, 8K TV screen, whiteboard, 220v outlets, meeting table with 4 chairs, 3 workbenches with 18 stools, shared toilets.
Coffee and lunch available in the RDM canteen.
Free parking on the RDM terrain.

Interested? Get in touch!

The Loft

Ideal as a demonstration or conference room. This is not a test space.

Coffee and lunch available in the RDM canteen.
Free parking on the RDM terrain.
The Loft is for hire. Price on request.

Interested? Get in touch!

Playground Campout

For anyone wanting to extensively test, improve, or debug their solutions, there is the possibility to stay a few days, free of charge, at the Innovation Playground. Send an e-mail in advance with the aim of your visit and we will be happy to help you.

Drop by for a few days (no nights).
Make use of all our facilities.
Test your products and services.

Interested? Get in touch!

Frequently Asked Questions

Playground Campouts: during a Campout a company, start-up, or educational institution can spend a few days at the KPN Innovation Playground extensively testing product and services on new technology. In this way, they can validate their riskiest assumptions. This allows the market to test SCEF network functionalities before they are released by KPN.

Expert day: every 4th Thursday of the month there is one or more KPN expert present to help you. Send us an e-mail if you want to come along, so that we can match your request with one of our specialists.

Monthly Meet-ups: during this high impact meeting, innovators in the market can meet with each other and discuss a wide range of innovative designs. This stimulates business and co-creation. KPN Innovation Playground already has extensive experience in this regard (such as Start-up evenings, the IoT Academy meet-ups, and KPN Security Hackathons).

Exclusive innovation workshops: these workshops can focus on customer inquiries and target any specific KPN industry portfolio (e.g. IoT, AI, API, data collaboration, UC, cybersecurity, health, agriculture, industry).

Certainly! We realize that 'the latest' is a dynamic and often temporary thing and that the knowledge of its use is not always in the hands of one person. We are always open for special requests, such as the building of specific environments, testing areas, or adding technology that we do not (yet) have on the shelf. Let us know and we will adjust accordingly.

Visiting KPN Innovation Playground for testing purposes is free during the Playground Campouts. In this way, we keep the threshold for testing and prototyping low. Visits are by appointment only and can be initiated by one of the participating KPN Innovation hubs. Some workshops are not free. Any costs are listed along with the workshops.
Security
Worry-free online