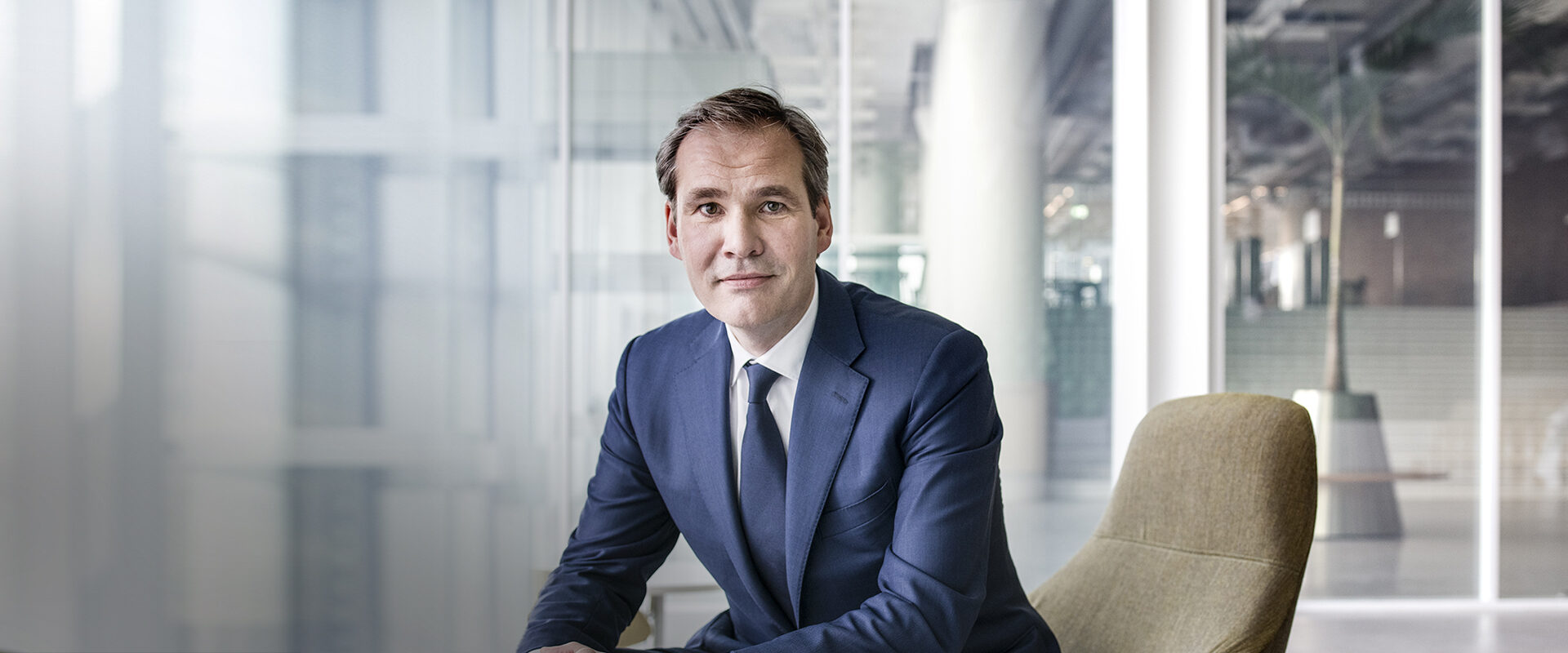 CEO statement
Relevant for the Netherlands

October 19, 2020 (update)
The advent of Covid-19 has turned life in the Netherlands upside down. Following the lockdown that took effect in March, a reasonably relaxed summer period started in June. The last few weeks have shown, however, that the virus is not yet under control. First and foremost, this affects those who have suffered the consequences of the virus or who have experienced the effect on people close to them. I wish all those people strength and fortitude.
The impact on our way of life is considerable. We are working from home, genuine contact has become harder and the economic impact on businesses is huge. We all know someone who is worried about their company or their job or who feels lonely. Now that it is lasting even longer, the pressure tends to increase on the solidarity that is needed if we are to beat the virus together. There are differences of opinion as to the degree to which the virus can affect us and the extent to which the measures taken are effective. Cooperation is the only way forward.
The coronavirus crisis has also engendered creativity and solidarity. People who do shopping for others, families that have reconfigured their homes to include 'work-free' zones, and friends who organize online game nights now that getting together in person is not possible for the time being. We all need to keep on developing such ingenuity.
As we are working more from home, doing business digitally and maintaining online contact with friends and family, the traffic on our network is increasing. We have taken extra measures in the past few months to safeguard the stability and security of our networks. We are continuing with those measures, keeping our finger on the pulse to remedy any disruptions straight away. At the same time, we are keeping a close eye on digital security. We have seen the number of cyberattacks and 'hobby-hackers' increasing recently. Alertness and additional digital protection are needed so that customer and business data remain secure when we work from home. We are working 24/7 with our cybersecurity experts to guarantee privacy and security.

'Keeping the Netherlands running in this exceptional time is an absolute essential.'
As digital accessibility is vital and we rely more than ever on a good internet connection, we are doing everything we can to ensure that we provide our customers with the best possible service. We are keeping our stores open for as long as it takes to help our customers. To that end, we have made changes to our stores and we have adopted strict, responsible guidelines to ensure the safety of our colleagues and our customers. Our mechanics wear face masks to protect themselves and customers when making home calls. Along with our contractors, we are working hard to roll out fiber optics, so that every week thousands of households can be connected to the fastest and best-quality internet. All KPN office workers are now working from home unless this is genuinely impossible. All meetings and events are being organized exclusively online.
We are helping teachers and school principals to make teaching easier through the use of good IT facilities. Together with partners, we have developed a CO2sensor to monitor the ventilation in schools, offices and nursing homes in real time. We are collaborating with nursing homes and hospitals to achieve extra network capacity, more workspaces, and digital support for healthcare workers. These are the sectors for which this will continue to be a challenge in the time ahead. We are ready to help them when required.
When necessary, we are introducing payment schedules for suppliers with problems. We are continuing to sponsor art, culture and sport. Through the KPN Mooiste Contact Fonds we are pursuing the fight against solitude, for example where children are no longer able to go to school because they are chronically ill. Or by supporting parents and carers by helping them to stay in contact with one another via ICT.
Keeping the Netherlands running in this exceptional time is an absolute essential, all the more so now that the coronavirus crisis is still a fact of life. After all, if we are connected, we can take on every challenge.

Joost Farwerck
CEO and Chairman of the Board of Management of KPN